Attorneys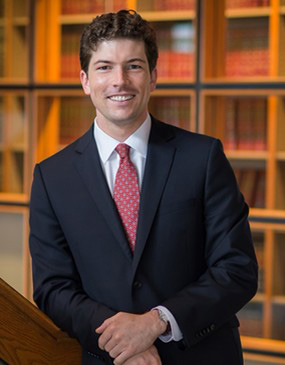 Attorney Biography
Nicholas J. Faso
Of Counsel
Attorney Biography
Nicholas J. Faso
Of Counsel
Nicholas Faso is a litigator with the Firm's Litigation, Arbitration and Mediation Practice Group. Mr. Faso represents businesses and individuals in a broad range of matters including contract and commercial disputes, trade secret misappropriation and business torts, employee non-compete and confidentiality agreements, land use, and construction litigation.
Representative Accomplishments
Obtained summary judgment for developer in litigation with public entity involving dispute over $1 million
Brought suit on behalf of landowner, successfully invalidating local zoning law that prevented development of client's land
Representation of owner in construction dispute resulting in favorable settlement
Representation of businesses and individuals in multiple lawsuits alleging misappropriation of trade secrets, unfair business practices, and breach of non-compete and non-disclosure agreements
Representation of businesses and individuals in complex commercial litigations involving breach of contract, shareholder claims, and other business disputes
Obtained favorable settlement of defamation suit brought against college
Obtained dismissal of lawsuit brought by large municipality against developer of a $300+ million project
Pro bono trial counsel in federal civil rights cases brought by incarcerated individuals
Affiliations
Mr. Faso is admitted to practice in New York State, and is a member of both the Albany County Bar Association and the New York State Bar Association.
Professional/Community
Mr. Faso currently serves on the boards of the Albany Symphony Orchestra and the Albany Academy Alumni Association.
Publications
New York's Leadership Role in Drug Law and Criminal Sentencing Reform, New York State Bar Association Government, Law and Policy Journal, 2015 (coauthored with John Dunne).
Civil Disobedience in the Supreme Court: Retroactivity and the Compromise Between Formal and Substantive Justice, 75 Alb. L. Rev. 1613 (2012).
The Return to Article X: A New Paradigm for Approving Energy Projects in New York State, New York Zoning Law and Practice Report (September/October 2011) (coauthored with Terresa Bakner).
Background/Education
Mr. Faso graduated summa cum laude from Albany Law School, where he was the Executive Editor for Symposium of the Albany Law Review and an intern in the chambers of the Honorable Lawrence E. Kahn, United States District Judge for the Northern District of New York. Mr. Faso was the winner of the Karen C. McGovern Senior Prize Trials, a year-long trial advocacy competition. Prior to law school, Mr. Faso worked on a congressional campaign and as a staffer for a New York State Senator. Originally from Kinderhook, New York, Mr. Faso attended The Albany Academy and Skidmore College.