Attorneys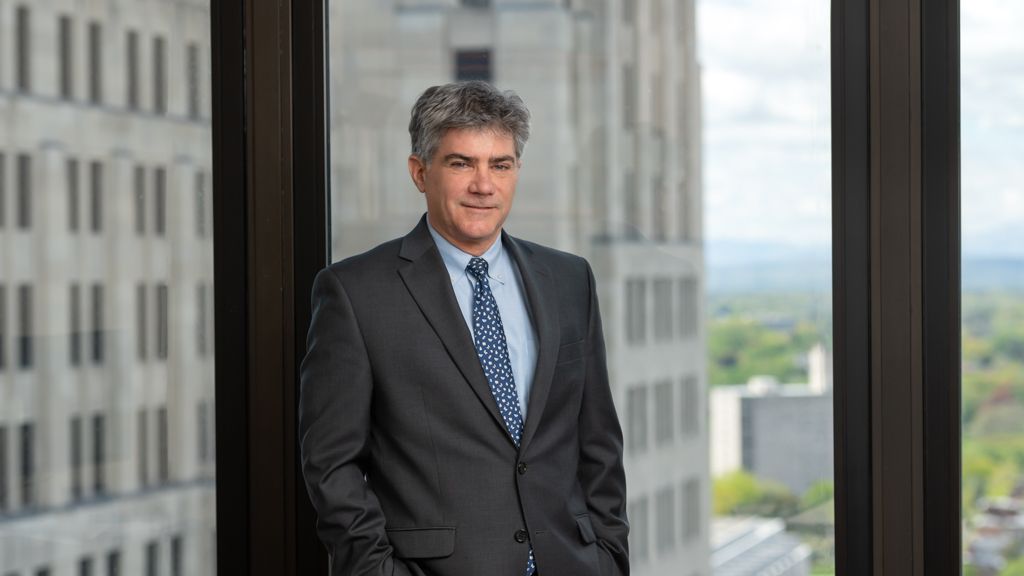 Attorney Biography
Gregory D. Faucher
Partner
Attorney Biography
Gregory D. Faucher
Partner
Mr. Faucher joined Whiteman Osterman & Hanna in 2013 and brings over 25 years of experience in the areas of environmental, permitting, and economic development. His practice has focused on state and local regulation of industrial, commercial and residential real estate development projects, land use and zoning, SEQRA, environmental permitting and remediation, brownfields cleanup, identifying and accessing state and local economic development and benefit programs, innovative use of PILOT Agreements, Indian law, site selection and acquisition, and other related areas.
Mr. Faucher also has extensive experience and an established practice in Indian law matters. He has represented a New-York based Indian nation for the past 9 years. The practice has focused on handling numerous transactions, including negotiation of dozens of contracts in the area of government-to-government, construction, consulting, real property acquisition and the like. Mr. Faucher has developed a keen understanding of the fundamental self-governance and sovereignty principles that are critical to Indian nations and routinely integrates those into complex business and other Indian nation transactions.
Representative Accomplishments
Formulated the strategy for and negotiation of what was then the first-of-its-kind PILOT Agreement in New York involving a city industrial development agency whereby a substantial amount of future PILOT payments were used to secure construction funding totaling more than $500 million in connection with an expansion to an existing super-regional shopping center in Syracuse, New York.
Formulated and implemented a strategy, believed to be the first of its kind in New York, on behalf of a developer whereby a city industrial development agency condemned individual lease and other contract rights of department store and other tenants in an existing super-regional shopping center to permit expansion by more than 1,000,000 square feet in Syracuse, New York.
Pursued entry into the New York State Brownfield Cleanup Program for ­+ 130 acre shopping center redevelopment and expansion. Formulated the strategy and pursued compliance with the Brownfield Cleanup Program during construction of the redevelopment which led to tax credits totaling more than $50 million.
Represents a sovereign Indian Nation in connection with its planning, programming and construction of approximately $180 million in infrastructure (water and sewer), community, government/administrative and medical projects on their tribal lands.
Formulated a strategy in obtaining right-to-build entitlements and a PILOT Agreement for the renovation and expansion of a super-regional shopping center in Rochester, New York. Entitlements included creation of a new zoning district tailored to fit the as-yet undefined needs of the project and compliance with the requirements of SEQRA.
Obtained and defended an Article 78 proceeding, local zoning and other land use approvals for numerous industrial/warehouse, medical office commercial/retail, hotel, and apartment community projects throughout Upstate New York and the Capital Region.
Negotiated numerous consent order and clean-up agreements with the New York State Department of Environmental Conservation relating to the investigation and cleanup of hazardous waste and petroleum contamination.
Formulated and implemented the strategy on behalf of a developer to remove a regional above-ground petroleum storage tank farm (+ 100 tanks) occupied by several multi-national oil companies through condemnation of the individual facilities to permit redevelopment for commercial purposes, together with related litigation and negotiation and implementation of settlement agreements whereby the condemnee oil companies agreed to undertake remediation at their own cost and to sell their land to permit such redevelopment.
Represented a national-level privately-owned developer in connection with siting and obtaining local and state permits and approvals for several regional and super-regional shopping centers across Upstate New York.
Handled all issues relating to the investigation and remediation of contamination, including hazardous waste, in connection with redevelopment of an assemblage of lands used as a metals scrap yard, above-ground storage tank farms, concrete batch facility and railroad yard into a super-regional shopping center.
Lead attorney in connection with the investigation and remediation of several commercial/industrial lands to be integrated into a super-regional shopping center in Clarkstown, New York.
Affiliations
Mr. Faucher is a member of the New York State and Florida Bars.
Background/Education
Mr. Faucher obtained his Juris Doctor from Albany Law School and graduated, cum laude, from St. Lawrence University with a B.A. in Government.